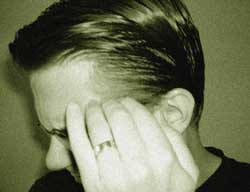 First of all Porn is a problem, but it is also a response to the root problem. I remember being consumed by lust all day long and then when I would get home try to fight off the urge to resist Porn. The problem is I have already let the fox in the hen house. The problem is that what I have been filling my mind with all day long will bear fruit, like it or not. Sometimes the decision to look at Porn at 9:00pm was made at 6:30am when I decided to start lusting after someone on the bus.

This to me is exactly the lesson Jesus is teaching when he says "You have heard that it was said, 'Do not commit adultery.' But I tell you that anyone who looks at a woman lustfully has already committed adultery with her in his heart. (Matt 5:27 -28). Now don't miss the point. The laws are meant to give us freedom, by keeping us from getting captured by things that would destroy. Jesus is saying here that your mind is enslaved, whether or not you commit any sinful actions. To focus on computer software to help us avoid porn (which is a good thing) but ignoring the lust that consumes our thoughts is to ignore the vast majority of the problem. Software is a great way to remind us we are accountable, but we also need vitally to be in relationships with guys(who will call us out on stuff) that we share our thoughts with. This for me was the 2nd most important aspect of recovery. It was in these settings that I learned how to confess my sin.
The last thing in the world I want is to make the bible into a how-to book. The following verses did however help me focus on renewing my mind. Romans 12: 1- 2 tells us Therefore, I urge you, brothers, in view of God's mercy, to offer your bodies as living sacrifices, holy and pleasing to God—this is your spiritual act of worship. Do not conform any longer to the pattern of this world, but be transformed by the renewing of your mind. Then you will be able to test and approve what God's will is—his good, pleasing and perfect will. Renewing our minds is vital to be transformed. Philippians 4:8 - 9 guides us towards what we should think about. Finally, brothers, whatever is true, whatever is noble, whatever is right, whatever is pure, whatever is lovely, whatever is admirable—if anything is excellent or praiseworthy—think about such things. Whatever you have learned or received or heard from me, or seen in me—put it into practice. And the God of peace will be with you. This second verse gave me the idea of centering my day. This is nothing new, people have been practicing centering prayer for hundreds of years. I would take a few thoughts that I absolutely know to be true, right and pure and intentionally dwell on them throughout my day. I remember the first time my daughter came home from church and sang Jesus loves me to us. She was almost 2. This was one of those thoughts. If my thoughts are centered on that event, lust seems horribly out of place. When our minds are busied with nonsense and stress and worry lust seems (though very much a lie) like a welcomed relief.